GIVE A TAX-DEDUCTIBLE DONATION
If you think this film can get made without your support, think again. 
Donate now and join us on this incredible adventure. You have the option of making your donation tax-deductible, while at the same time helping to create a feature film by and about amazing women. Is there anything more exciting than having the opportunity to contribute DIRECTLY to the making of a moving, entertaining, beautiful, informative and historic piece of art that will be seen by audiences all over the world? We think not. 
To make your TAX-DEDUCTIBLE DONATION:
WRITE your CHECKS out to… "Women Make Movies"
In the MEMO line write… "Sundays at Café Tabac"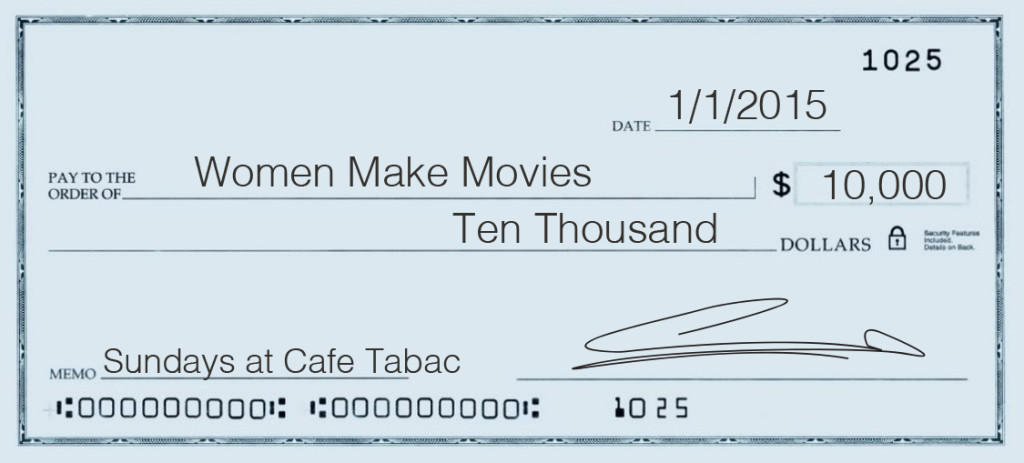 SEND your CHECKS in by MAIL to:
Women Make Movies
115 West 29th Street
Suite 1200
NY, NY  10001-5059
And let us know that it's on its way by filling this out and hit SEND…
We are under the umbrella of the WOMEN MAKE MOVIES 501(C)(3). Your CHECK donations are 100% Tax-Deductible and you will receive a letter 
for tax purposes from them.
At this time we can offer TAX-DEDUCTIBLE status ONLY to donations made by CHECK.
***
CREDIT CARD DONATIONS BELOW ARE NOT TAX-DEDUCTIBLE.
If you would like to make a NON-TAX-DEDUCTIBLE DONATION by CREDIT CARD, please use this LINK BELOW. 
YOUR SUPPORT WILL FUND THE FOLLOWING
1. Film Shoot: Interviews, supplementary scenes and titles. There are crews and creative personnel, equipment, meals, locations, transportation costs, accommodations (out-of-town shoots) and fees. A lot has been donated in this category (like MAC Cosmetics providing makeup artists for our shoot, and others who've donated frequent flyer miles, accommodations, & locations), but not everything, for which we need your additional funding.
2. Rights Clearances (music, images & footage): We CANNOT make the film without this, and it's the most expensive part of the film's production. This is an area where the waiving of fees is not possible and non-negotiable. It is important for this film to have the dignity that women deserve, which means we need archivals and music that are iconic. We are not looking at excessive usage and will be creative and resourceful in this area, but there are some things we just can't get around. And we refuse to be relegated to the fringes. This film deserves to look great and deserves a killer soundtrack.
3. Film Score: MESHELL NDEGEOCELLO is scoring our film. We are so humbled to have a 10x Grammy-nominated artist donate her talent and time in support of this project. But there are engineers, studio musicians and studio space involved, in addition to transportation, possibly accommodations, meals and incidentals. Fees may be reduced, but ultimately there are still costs involved.
4. Post-production: A high-end commercial post-production house has donated their services, but there are relatively minimal fees for post/editing artists/technicians and meals, plus media drives and other equipment that need to be outright purchased. We are saving tens of thousands of dollars as a result of the donation, but costs are still in the thousands.
5. Audio Mix: We are still looking for donated services, but for now we need to raise funds for ALL fees connected to audio post and incidentals connected to that.
THESE OBJECTIVES ARE INSTRUMENTAL FOR OUR FILM.
***
VOLUNTEER/SERVICES
If you would like to volunteer or have any services you'd like to provide that could help, please contact us. Here are some areas we can definitely use help in:
Production Assistants
Frequent Flyer Miles
Audio Studio/Personnel
Fundraising
Grant Writing
Fundraiser Event Planning
Branding
New Media Technology
Website Build/Design
Social Engagement & Outreach
Publicity
Accounting
Marketing
Contacts in Print/Online Publications, Broadcast Media, Corporate Sponsors for the film project and/or live events (ie.Fundraiser parties, film festival events, screening, etc), and Private Donors/Patron of the Arts.
More funding means we can deliver with the high production value this story demands and deserves.
support@cafetabacfilm.com
Thank you for your support!